Dental Implants made easy at
Guiney Dental Practice in Cork.
Don't suffer the indignity and discomfort of having missing teeth. Guiney Dental can help. Our team of expert dentists will be able to provide you with a top-quality dental implant to give you back your confidence and comfort, swiftly and effectively.
Dental Implants at Guiney Dental Practice

Missing teeth can cause significant discomfort and inconvenience, not to mention make you feel self-conscious about your smile.
Dental implants provide the perfect solution.
How do dental implants work?
Dental implants are titanium posts, which are positioned beneath the gum to replace missing teeth. The posts mimic the root of the
tooth, and will eventually be finished with a crown, which is the uppermost, visible section of the implant.
Can you benefit from dental implants?
If you have healthy gums and enough bone to support the implant, then you'll be able to benefit from this treatment. To discuss your
requirements further, simply contact the surgery today.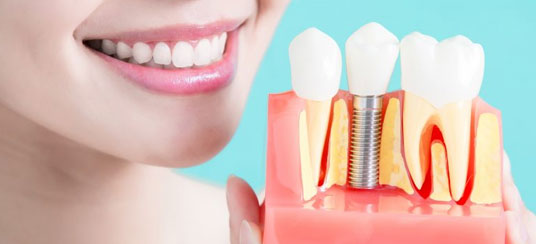 How do they work?
Over time, the implants integrate and fuse with the jaw bone, providing excellent support for artificial teeth (which may take the form of dentures, crowns or bridges). The secure fit of the denture to the implant means that it won't move in your mouth whilst eating or speaking, which really increases both comfort and confidence!
To arrange a consultation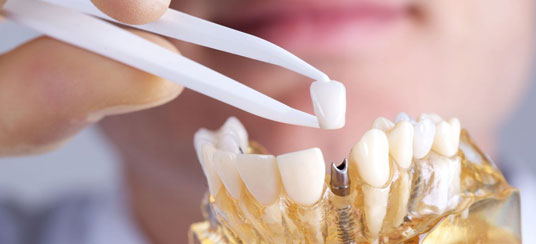 Why choose Dental implants?
False teeth, though a good short-term measure, are often not terribly comfortable in the long term. Some wearers report considerable discomfort with dentures, even occasional gagging; and may choose to avoid wearing them altogether. Implants provide a great alternative, securing the artificial tooth firmly to the jaw, and eradicating movement or discomfort. Additionally, with implants, no adjacent healthy teeth need to be ground down to carry an extra tooth.
To arrange a consultation